Recent News/Highlighted Items
Soldiers Of The Iraq/Afghanistan Era Dead Of Sudden Cardiac Death Probably Due To Prescription Antipsychotic & Other Psychotropic Drugs, by Fred A. Baughman, Jr., MD, Presented at the 22nd Annual Combat Stress Conference May 1-3, 2015 Carlsbad, CA.
Feds Pay for Drug Fraud: 92% of Foster Care, Poor Kids Prescribed Antipsychotics Get Them For Unaccepted Uses , by Art Levine, The Huffington Post, April 30, 2015.
Benzodiazepine use and risk of Alzheimer's disease: case-control study, by Sophie Billioti de Gage PhD, Yola Moride, Thierry Ducruet, Tobias Kurth, Hélène Verdoux, Marie Tournier, Antoine Pariente, and Bernard Bégaud, British Medical Journal, 2014;349:g5205
Drugging Our Kids: Children in California's foster care system are prescribed unproven, risky medications at alarming rates, story by Karen De Sa, San Jose Mercury News, August 25, 2014.
In the Matter of the Detention of DE v. Washington Dept of Social and Health Services and Pierce County, August 7, 2014.
CRIPA Investigation of the New York City Department of Correction Jails on Rikers Island on the treatment of adolescent male inmates, by United States Department of Justice , August 4, 2014.Report on forced psychiatry and psychiatric abuse against African Americans as intersectional discrimination based on race and disability, to the Committee on the ELimination of Racial Discrimination (CERD), July 14, 2014
Letter From Nine Mental Health Experts To Funders And Ethics Committee About Ketamine + Electroshock Therapy Study
, John Read Blog, June 21, 2014.
PsychRights' Open Letter to Senator Lisa Murkowski (R Alaska), January 21, 2013.
PsychRights' Letter to the President's Task Force on Gun Violence, January 7, 2013.
Involuntary Commitment and Forced Psychiatric Drugging in the Trial Courts: Rights Violations as a Matter of Course, by James B. (Jim) Gottstein, 25
Alaska L. Rev.
51 (2008).
How the Legal System Can Help Create a Recovery Culture in Mental Health Systems, presented at Alternatives 2005: Leading the Transformation to Recovery, Phoenix, Arizona, October 28, 2005.
Report on Multi-Faceted Grass-Roots Efforts To Bring About Meaningful Change To Alaska's Mental Health Program
Bigley v. Alaska Psychiatric Institute
, S-13116, Alaska Supreme Court Opinion No. 6374, May 22, 2009.
Wetherhorn v. Alaska Psychiatric Institute
, Opinion No. 6091, ruling Alaska's gravely disabled criteria unconstitutional (requiring the state prove the person unable to survive safely in freedom).
Myers v. Alaska Psychiatric Institute
, Opinion No. 6021, June 30, 2006, ruling Alaska's forced psychiatric drugging regime unconstitutional.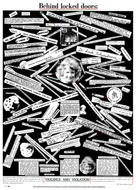 Website Last modified 6/7/2015
Copyright © 2002-2015 Law Project For Psychiatric Rights All Rights Reserved