Occupy Psychiatry Speech on May 6, 2012 in Toronto.
by Don Weitz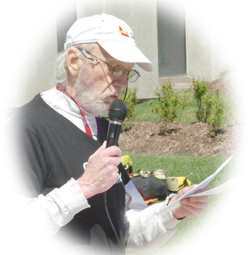 My name is Don Weitz, I'm a proud and angry psychiatric survivor and antipsychiatry activist and member of CAPA's Coordinating Committee. It's very important and appropriate we are protesting psychiatric oppression and capitalism today with Occupy Toronto in front of the Clarke 'campus' of CAMH - Ontario's 'shock shop' and symbol of psychiatric oppression. By the way, several multinational drug companies (Big Pharma) donate millions of dollars yearly to this psychoprison masquerading as a hospital where thousands of our brothers and sisters are being forcibly drugged, electroshocked, physically restrained, where many languish in solitary confinement ("locked seclusion"), traumatized and dehumanized, their human rights violated – in the name of "mental health."
Twenty-four years ago on May 2,1988, the late Jack Wild, a feisty shock survivor and comrade, and myself were arrested inside this building called the Clarke Institute of Psychiatry. We were charged with and arrested for 'trespass' while trying to hand out copies of a short info sheet titled Electroshock Facts: Your Right to Know the Truth About ECT. It was produced by Resistance Against Psychiatry as a response to Ontario's Ministry of Health which had recently released a pamphlet titled "ECT: A Guide to Understanding". It should have been labeled A Guide to Misunderstanding ECT or How to Con People to Consent to ECT, since it was a bunch of lies of omission; it didn't bother mentioning the major risks of permanent memory loss, brain damage and trauma caused by this so-called "safe and effective treatment." Since Big Nurse refused our request to hand out our shock info or speak with any patients during visiting hours on the ward, we sat down arms linked in front of the elevator and refused to move until we could meet some patients - an act of nonviolent civil disobedience.. Big Nurse called Security who called the cops who forced us out of the building into a police car.
Although we lost this human rights battle in the Clarke and in court, CAPA, MindFreedom International, and many other survivor-led human rights and advocacy organizations, and dissident mental health professionals are speaking out and protesting against electroshock, forced drugging, and other dehumanizing and harmful psychiatric procedures, and fighting for human rights for our brothers and sisters locked up in CAMH and many other psychoprisons.
ALL POWER TO OUR BROTHERS AND SISTERS IMPRISONED IN CAMH,
ALL POWER TO ALL PSYCHIATRIC SURVIVORS.
ALL POWER TO OCCUPY TORONTO AND OTHER ALLIES.
IN STRUGGLE AND SOLIDARITY!