California mother jailed
after three years as
a refugee in Canada
March 2, 2003 - She was a well-paid legal secretary living in Silicon Valley until Sunnyvale School District educators decided they wanted to put her 6-year-old son, Vincent, on Ritalin. When Diane Booth refused to medicate her son, they called CPS.
After months of trying to please the systemites while her very young son was imprisoned, abused, and drugged in Eastfield Ming Quong, a locked children's holding facility at one time used to force social services on California's Chinese immigrant children, Diane took matters into her own hands. In desperation and at her son's request she helped him escape and entered Canada with him on July 5, 2000. Doctors there diagnosed him with Tourette's Syndrome as a result of forced drugs at the CPS children's incarceration facility in Santa Clara County, California.
Only two months later the FBI apprehended them in British Columbia and tore Vincent from her side while he screamed for help that his mother wasn't allowed to give him. Now Diane is back in Santa Clara County, in jail and facing child endangerment and child stealing charges for trying to help her own son.
Your letters of support will be appreciated:
Diane Booth
BOOKING# 03007942
PFN# DPN183
P.O. Box 360910
Elmwood Correctional Center for Women
MILPITAS, CA 95036
Urgent - your help is needed...
2/28/2003 2:23:34 AM Pacific Standard Time
Dear Friends,
I am writing to you, seeking your assistance. As you know, I have long been engaged in raising public awareness about the dangers of psychiatric medications. Furthermore, it is critical that the public be informed that there are no valid medical tests that can prove any abnormality in a person who has been labeled with any number of psychiatric disorders, including "ADHD".
Through the very unfortunate circumstances of one mother and her child, a door has opened which will allow us to bring our message to the consciousness of the public in a way we had not imagined.
This message is lengthy, but it is of utmost importance. I encourage you to read it in it's entirety, and then take action.
Diane Booth is the mother of whom I speak. She waited a long time to have her first child. She was forty years old when her beautiful son, Vincent, arrived. Her marriage did not last, and she was left a single mother.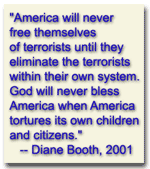 Vincent was experiencing some difficulty in school, and Diane was told that he might have ADHD. He was "tested", and the "diagnosis" was confirmed. Diane was told that he would need medication for his "problem". She felt that his inattentiveness could be handled without the use of such a strong drug, and refused. Shortly thereafter, a medical negligence claim was filed against her, and the local department of child and family services removed Vincent from her care and custody.
Think upon this for a moment, my friends... Can this really happen? You bet it can, and it is happening with increasing frequency.
Diane was able to locate Vincent and she "stole him back" and fled to Canada.
It did not take long for the authorities to catch up with her, and they took her beloved child from her again, leaving her as a refuge in a foreign land. She lived as a fugitive for some time; I had correspondence with her during part of this time, but I never knew her whereabouts. She was recently arrested on charges of "parental abduction" and is now in a California jail, awaiting trial... and her fate.
I have agreed to set up her legal defense fund through our new non-profit- ASPIRE. I will be securing a depository account to receive funds hopefully tomorrow, but by Monday at the latest.
Please open your hearts and your pocketbooks to help Diane gain her freedom, and be reunited with her son.
I am providing you with the address where you can send your contributions. Please be sure and include your full name, return address and email address for our records. I do not know whether your contribution will be tax deductible or not, but I will let you know as soon as possible. I will also send periodic updates to all who contribute. I am also including for you a statement by Dr Fred A. Baughman, MD who has agreed to testify for and on her behalf. He is offering his expert witness and services to her free of charge.
We are also looking for a criminal defense attorney, preferably residing in or near where Diane is being held, in Milpitas, CA. If any of you are attorneys, or if you know of an attorney who might be willing to come to her defense, please forward this to them, and CC back to me at my other email address:
I am also including a copy of the letter I am sending to her tomorrow. I encourage each of you to write to her; it matters not if you know her personally or not. I know her, and she is a good mother, a beautiful person. It will do wonders for her to receive your letters of encouragement and support.
I also encourage you to forward this message, in it's entirety to everyone you know.
With love to all,
Dawn (The Avenging Angel)
A.S.P.I.R.E.
---
Letter from Dawn Rider
February 27, 2003
Diane Booth
PFN#DPN183
BK#03007942
Correctional Center for Women
PO Box 360910
Milpitas, CA 95036-0910
Dear Diane,
I hope my letter finds you in good spirits. I understand you have been allowed to see your son, and that he appears to be fine. Thank God for His infinite mercy. Know that He is aware of your situation. Many are.
Diane, we are doing all we can to raise awareness. Even now we are exploring the best ways to raise funds for your legal defense. Charlie Wittman has asked that I manage the fund. I spoke with him by telephone this evening. And, dear Dr. Baughman - such a good soul. He will be your expert witness, and there is no better to address this particular problem, as you well know.
This is our plan: You know that I have an extensive network, and many of my friends have their own networks. I am going to post a message that summarizes what has taken place. I will ask for contributions to be sent in C/O of the non-profit we have set up. I will also post your address for any who may wish to send you letters of support and encouragement. And, I will ask for their prayers.
I see that the media is still coddling to the powers that be. An article in the SJ Mercury on February 1st provided only an outline of the evidence, missing the vital points that would have enraged the public, if only they had been provided even a sampling of the truth of what has happened.
Are you being treated well? What is the routine of your day like? Are you allowed to read? Can you write back? What kind of things are we allowed to send to you? Do you need a Bible?
I still have much to do, and it is already into the early morning hours. I leave you with a prayer:
Father, I ask thee to bless my friend who is reading this right now.
I ask thee to minister to her spirit at this very moment.
Where there is pain, give her thy peace and mercy.
Where there is self doubting, release a renewed confidence in thy ability to work through her.
Where there is tiredness, or exhaustion, I ask thee to give her understanding, patience, and strength as she learns submission to thy leading.
Where there is spiritual stagnation, I ask thee to renew her by revealing thy nearness, and by drawing her into greater intimacy with thee.
Where there is fear, reveal thy love, and release to her thy courage. Where there is a sin, reveal it, and break its hold.
Bless her finances, give her greater vision, and raise up leaders, and friends to support, and encourage her.
Give her discernment to recognize the evil forces around her, and reveal to her the power she has in thee to defeat it.
I ask thee to do these things for my friend and I ask you to bless and protect America, in the name of they blessed and beloved Son and my savior, Jesus Christ.
In love,
Your friend The Avenging Angel
---
Address where contributions can be sent. Please write clearly on your check:
Diane Booth Legal Defense Fund
C/O: A.S.P.I.R.E
222 West Center Street
P.O. Box 1932
Orem, UT 84059-1932
For those who may prefer to do a wire transfer, let me know and I will forward routing information as soon as I have received it from the bank.
---