Anchorage attorney battles drug giant
GOTTSTEIN: Pro bono work leads to his exposing potential medicine dangers.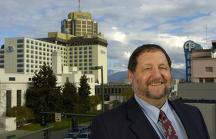 Jim Gottstein is an activist lawyer who calls himself an escapee from the mental health system. Most of his work involves fighting the practice of forced psychiatric drugging. (Photo by BILL ROTH /Daily News archive 2005)

---


By LISA DEMER
Anchorage Daily News


(Published: February 13, 2007)
Anchorage lawyer Jim Gottstein has emerged as a player in a national controversy over the psychiatric medication Zyprexa, which is Eli Lilly's best-selling drug.
An advocate against forced medication in the treatment of mental illness, Gottstein obtained documents about the drug that had been sealed in Outside lawsuits against Eli Lilly and provided them to a New York Times reporter. According to the Times, the records showed a decade-long effort to downplay the drug's health risks in order to protect sales.
A spokeswoman for Lilly says the company has provided documents to plaintiffs, including drafts, internal e-mails and trade secrets. Information critical of Lilly and Zyprexa has been taken out of context by the media, said spokeswoman Marni Lemons. A federal judge in New York sealed the records for good reason, she said.
Gottstein has spent years trying to change what he calls dangerous practices in treating the mentally ill. He has founded a nonprofit law firm called the Law Project for Psychiatric Rights to fight forced drugging of patients.
We asked Gottstein to answer a few questions about his fight with Eli Lilly and his overall take on the mental health system. The interview was conducted through e-mail.
Q. You've gotten a lot of national attention in the last couple months. Tell us briefly how you came to be involved in a big New York court case against Eli Lilly.
A. Dr. David Egilman, an expert retained by one of the plaintiffs' lawyers, became so alarmed about what the court-sealed documents revealed that he went looking for a way to legally make them public.
Q. You've been described as "leaking" documents exposing problems with Lilly's best selling drug, Zyprexa, to The New York Times. Is that what happened?
A. No. I subpoenaed them for a case and when Lilly didn't act in time, I received them without any restriction. Lilly disputes this, of course, and has as much money to spend on lawyers as it wants to.
Q. What do you consider the most significant allegations made against Lilly in these documents?
A. 1. Lilly hid data showing the rate at which Zyprexa causes diabetes, massive weight gain and other metabolic problems. 2. Lilly trained its sales staff to mislead doctors about the diabetes, etc. 3. Lilly illegally promoted Zyprexa to people caring for the elderly, which is especially deadly. I think it is important to note that right now it and other similar drugs are being illegally promoted for kids, especially those who have been taken away from their families.
Q. Why is the case involving Eli Lilly and its drug Zyprexa important to you?
A. PsychRights' mission (the law firm) is to mount a strategic litigation campaign against forced psychiatric drugging, and Zyprexa is one of the drugs commonly forced on people. These drugs are very harmful, and in total, very ineffective in actually helping people get better. I do know some people who find it helpful and they should have access to it, but for those that don't or find the negative effects intolerable, it should not be forced on them. ... The courts ordering Zyprexa forced on people should know the truth about it when making their decisions.
Q. You've said that Eli Lilly is coming after you for providing the documents. What can they do to you?
A. Lilly has said they intend to seek civil and criminal contempt sanctions against me. If successful it could be financially ruinous. I think those charges are unfounded; that Lilly messed up and is now attacking me and Dr. Egilman instead.
Q. What has this situation cost in money, and how are you paying the costs? Through earnings of your law practice?
A. It cost PsychRights about $15,000 right away and there must be a lot more by now. I basically have no earnings from my law office because I spend most of my time pro bono trying to stop the massive amount of forced psychiatric drugging and making other choices available.
Q. You've been open with your own struggles with mental illness and describe yourself as an escapee from the system. How are you doing stresswise?
A. I'm glad you asked that question. I think it is important to point out that anyone and everyone can become psychotic, or insane, or crazy or whatever word you want to use to describe it, under various circumstances. Anyone who becomes sleep deprived enough will become psychotic. I can get into situations where I can't sleep if I have an impending deadline and still need to do a lot of thinking about it. In other words, I can't "turn off" thinking about it to go to sleep. Before I went crazy in 1982, I had no idea that might happen. Since then I have learned how to manage things in ways to prevent a recurrence. Does this mean I had or still have a mental illness? I think it really raises the question of what that means.
Q. You're also trying to reform Alaska's mental health system through the courts and otherwise. What are you trying to change?
A. For various reasons, psychiatric drugs have squeezed out other approaches that have proven to be effective. I was very lucky not to have been made permanently mentally ill when I got caught up in the system. Most people are not so lucky, with the result being at least half of the people who end up being labeled chronically mentally ill could have gotten completely better if they had been allowed other options. What I'm trying to do is have such other choices become available.
Q. What's the most persistent, troublesome misconception among the general public about drugs used to treat mental illness?
A. That they correct any kind of chemical imbalance or other brain defect. That they are relatively safe. Neither is true.


Copyright © 2007 The Anchorage Daily News (www.adn.com)