Workers, spouses use Butabika mental hospital to fix rivals
Mulago staff gives testimony
CHRIS OBORE
KAMPALA
Lying on the shores of Lake Victoria, east of Kampala is Butabika Mental Rehabilitation Hospital. It is home to between 500-700 patients, according to its director, Dr Fred Kigozi. But apparently Butabika is not exclusively a hospital for mental patients but also "patients of persecution".
The hospital, which enjoys a cool breeze with well-groomed open spaces, clean wards and an enthralling ambience, is supposed to host people with mental impairment. But interestingly the facility has also been used to admit people of sound mind. How and why it's done, is a combination of treachery and outright criminality.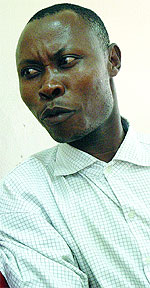 MENTALLY ILL? Mr Lubanga narrates his Butabika ordeal to Monitor. Photo by Uthman Kiyaga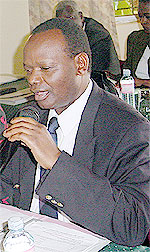 We made an educated guess: Mulago boss Dr Dumba
If your spouse wants to divorce you, it's just a call away to the police and says you are mentally sick. Without, further delay, the police will bundle you out of the house to Butabika. Then the divorce petition will succeed on grounds of mental illness. When your relatives want to grab your property or want to deny you inheritance, they just do the same thing. A mere pronouncement that you are mentally ill is enough to earn you a booking at Butabika.
Many civil servants, whose termination from work is not an outright decision by their bosses, have been branded mentally ill and booked at Butabika, to get basis for dismissal from employment.
"We have seen several cases where some people are brought here [Butabika] because individuals want to take advantage of them. Mental illness is used as an escape route," Dr Kigozi said.
He told Sunday Monitor in his office on Monday that although some cases had been referred to Butabika by court, others were manoeuvres by individuals. On the way out after interviewing Dr Kigozi, Sunday Monitor met a civil servant who had been referred to Butabika on allegations that he was not of sound mind.
Mr Jamada Lubanga, a medical equipment technical officer at Mulago National Referral Hospital, was sent to Butabika by the ministry's Permanent Secretary for mental check up because his bosses at Mulago had insisted he was mentally ill. The senior staff at Butabika knew Mr Lubanga because he used to repair their medical equipment.
Mr Lubanga, who had lots of documents, sat down with Sunday Monitor and recounted his story: My problem started in 2004 when mortuary trolleys [used for keeping dead bodies] were taken for repair. The repairers wanted Shs6 million but some people in my department wanted to inflate repair costs. I refused. The repairers [B.C Engineering & Fabricators] insisted on me going to clear the bills and pick the trolleys but the bosses refused.
Later they had me transferred to Masaka Hospital. I moved to Masaka but they had already informed the bosses there that I was mentally ill. They tried to instigate Masaka Hospital against me but I stayed there. The hospital administrator in Masaka threatened to throw me out of the house I had been allocated.
(Sunday Monitor saw copies of documents indicating that several top leaders in Masaka were petitioned and they intervened to help Mr Lubanga. The CID officer and the Chief Magistrate wrote to the Resident District Commissioner to help Mr Lubanga).
Later the PS noticed the anomaly. She transferred me back to Mulago. When I reported to duty at Mulago, the management denied me access to the office. But I stayed on hoping their attitude would change.
Later I reported the matter to the ministry. The PS rang the director of Mulago Hospital Dr Robert Dumba asking him why they were not allowing me to access my office yet I am the only experienced mechanical engineer with 15 years of service at Mulago.
The director told the PS that I am mentally ill. The PS refused to buy his explanation because she was aware of my issue.
The PS asked Dr Dumba whether he had examined me and found me mentally ill.
She asked me to come to Butabika so that experts examine me and give a report.
When I arrived here, most of the workers know me because I used to repair their medical equipment. I was referred to Dr Tom Onen, a senior consultant psychiatrist. I have had talk with him and he says he will write a report to the PS. The whole plot is to get rid of me at Mulago.
But Dr Dumba disagrees.
"Mr Lubanga is mentally ill. He is just a technical person and junior; he is not persecuted. He has real problems and the ministry of health is handling his case.
"In civil service, there are procedures of complaining, he should not talk to the media.
"The gentleman is mentally disturbed."
Asked how he concluded that Mr Lubanga is mentally ill when he is not a psychiatrist, Dr Dumba said: " We are also doctors, that is how we made an educated guess."
Asked whether guesswork was part of medical practice, he said: "That man is mad, that's why he was referred to Butabika."
Dr Dumba denied the allegations that some officials at Mulago wanted to get rid of Mr Lubanga, so as to gain access to equipment for use in private clinics.
He also denied knowledge of the case involving mortuary trolleys.
"Maybe it's known to him. He is a very low officer," Dr Dumba said.
But Dr Onen who received and interviewed Mr Lubanga at Butabika said he had examined him and did not find sufficient ground to show he is mentally sick.
He declined to divulge details.
"In psychiatry, you can only keep someone if they are neglecting themselves or are a threat to others. We get people brought here that they are mentally ill and we find they are not. We have had people come because there are squabbles in jobs. Either the bosses do not want their juniors or the subordinates too brand their superiors as funny."
"In most cases we find no grounds to say the accused are mentally ill.
"For instance, a PS has sent here a person. They don't want the chap in the job.
"A lot of such cases are from the public service because it is very difficult to dismiss somebody from public service. In a week, I handle at least three cases of that nature – who are falsely branded mentally sick.
"Some of those referred here, we find they may have simple depression; they feel headache all the time. Some have lost their loved ones or are suffering from HIV/Aids. There are many people out there suffering. Giving them a simple rest from daily routine would help them. But instead they are declared mentally ill and brought here."
Dr Kigozi says:
"We had a case where a woman attempted to divorce her husband by declaring him mentally abnormal but we found the man normal. "By law, if a case is referred here from court, we take 28 days to observe the person before writing a report.
"If it's involuntary admission largely resulting from urgency orders, we observe the person for 10 days. Any story of concoction will be subjected to scientific assessment and in most cases they fail.
"To declare somebody mentally ill, a committee set up by the Director General of Health Services must sit and make an assessment. That committee must include a neurologist physician and a psychiatrist. "So people can escape being declared mentally ill by writing to the Director General of Health Services."
He said there are also cases of patients who have recovered but their relatives have refused to take them back home. He said the hospital holds between 30- 50 such patients. There is also a 14-year-old boy, Charles Lwanga, a slow learner and lame but not mentally ill.
Moving with a hospital guide, Lwanga came running and embraced the nurse in the hospital yard. "Mummy... mummy... mummy... where is my sweet. Mummy you didn't see me yesterday," Lwanga said as he embraced the nurse.
This writer chatted with Lwanga and he had this to say: "I was brought here in 1997. I want to go home; I want to go to school. My father is Lt. Col. Lwanga Mutumba [now a Brigadier]. He works in Bombo as a soldier. He is a doctor. They don't want me at home. Mummy [stepmother] doesn't want me."
However, Brig. Lwanga on Friday said he took his son to Butabika because he was not alright. "I took him there sometime but not 1997.
"He has been chronically sick. I would prefer you leave him there. It was a painful decision. He has had a mental problem since birth. You can't trust so much what he says. There is no stepmother at home."
The young Lwanga was dressed in a striped hospital uniform which the hospital officials said is only worn by patients who pose no danger to themselves or others.
Police say malicious booking of people to Butabika is criminal.
"When somebody reports that their relative is mentally ill, the police acts and takes the person to Butabika. For us we genuinely think it's a true report," said Mr Asan Kasingye, the police spokesman. "The blame should be put on a person who gave police wrong information."