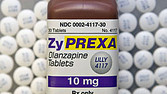 The FDA today approved the use of two antipsychotic drugs — Eli Lilly's Zyprexa and AstraZeneca's Seroquel — in teenagers. But the agency also said it wants to know more about the risk of weight gain and diabetes in kids who take those and other antipsychotic drugs.
It's clear that those risks are broadly associated with this class of drugs, and their warning labels say so. But some evidence suggests the link is especially strong in kids. An FDA advisory panel on pediatric drugs meeting next week will discuss the issue; a report written by FDA staff and released ahead of the meeting calls for more research and suggests more warnings about the drugs' side effects in kids could be in store.
A study published last month in JAMA found that children and adolescents taking antipsychotics gained significantly more weight over a period of about 11 weeks than comparable kids who weren't taking the drugs. Patients taking Zyprexa showed the most weight gain — 19 pounds — but weight gain was associated with several drugs in the class.
The label for Zyprexa already includes a warning that says teenagers are more likely to gain weight, and likely to gain more weight, than adults taking the drug. But the labels for other drugs the FDA is looking at — J&J's Risperdal, Bristol-Myers Squibb's Abilify, Pfizer's Geodon and AstraZeneca's Seroquel — don't say whether kids are at higher risk than adults for weight gain. (Risperdal and Abilify also are specifically approved for use in kids.)
The drugs, which treat conditions including schizophrenia and bipolar disorder, were the top selling class of drugs in this country last year, with sales of $14.6 billion, Dow Jones Newswires notes.
Photo: Bloomberg News