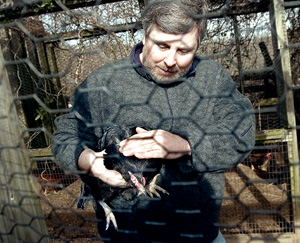 Ian Keats of Charlottesville pets a rooster at Crossing Creeks. The mental health facility has been open since 2004.

Photo by Thomas J. Turney
Ian Keats' journey to a more normal life has brought him to a farm north of Broadway.
Whether it's feeding chickens in a small coop or washing the dishes, he sees the farm off Mountain Valley Road as his way back to a healthier life.
Crossing Creeks has been open for more than a year, serving as a therapeutic community for people with long-term mental illness, such as schizophrenia and major depression.
Now, the organization is looking to expand so more people can receive assistance through work and support.
Based On Massachusetts Farm
The operation is partially based on the Gould Farm in Massachusetts, an emotional rehabilitation setting in operation for more than 100 years.
The board of directors has plans to expand the Rockingham center to accommodate more people over the years. Crossing Creeks is applying to the Rockingham County Board of Supervisors for a special-use permit.
The permit would allow Crossing Creeks to add three residential buildings and an activity building onto the 156-acre farm. It would also allow the farm to host up to six residents this year and a maximum of 30 by 2010.
Now, two clients live at the farm.
The county board is expected to consider the permit at its meeting Wednesday.
John Otenasek, the program manager for Crossing Creeks, said the community's organizers want the facility to become a fully functioning farm. Apple trees and grapevines already have been planted and a chicken coop is in place.
Otenasek, who went to Gould for three years to deal with his schizophrenia and remains a member of Gould's board of trustees, said farming gives clients skills they can use and offers some therapy as they try to transition to a healthier life.
"This is for people who are discharged from hospitals, but may not be ready to go back" to society, he said.
Crossing Creeks' organizers met with neighboring property owners last week to discuss concerns about the facility, including questions about whether the clients are dangerous.
Clients at Crossing Creeks voluntarily go to the farm, and the facility does not accept clients who are violent or are sexual offenders, Otenasek said.
Nearly two dozen people visited the facility Saturday for a volunteer community workday, held on the third Saturday of every month. Visitors worked with Crossing Creek staff and board members on chopping firewood, painting window shutters and insulating the building to save on heating costs.
Sharing, Learning To Manage
Pat Hostetter Martin, a member of the Crossing Creeks board, said the place she and others are working on is a place where people can learn about their illness and get support while working.
"It helps you learn about what you have to do and to get better," said Hostetter Martin, whose son went to the Gould farm in Massachusetts for his schizo-affective disorder. He is no longer there. "There's no cure, but there is definitely recovery."
Keats, 43, of Charlottesville, has been at Crossing Creeks for about a year. He lives with bipolar disorder and found himself sleeping all day before going to Crossing Creeks.
"My life had spun down to nothing," he said. "I had no kind of life."
At Crossing Creeks, he said, things are improving as he finds support from the people who work there. His work at Crossing Creeks includes feeding the chickens and rounding up their eggs. He also gets some support from a former client.
"Coming here has given me a sense of community," Keats said.
Contact Melvin Mason at 574-6273 or mmason@dnronline.com