March 25, 2008, 8:17 am
Zyprexa: Balancing Serious Side Effects With Serious Illness
Posted by Jacob Goldstein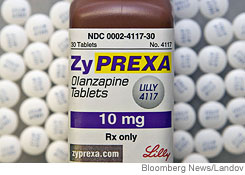 Lawyers for the state of Alaska have spent weeks arguing in an Anchorage courthouse that Eli Lilly hid the dangers of its antipsychotic drug Zyprexa — a claim Lilly denies.
In a state courtroom one floor down, a less remarked upon case earlier this month illuminated the complex questions patients and doctors have to wrestle with when deciding whether to use imperfect but often helpful antipsychotic drugs to treat profound mental illness.
A 55-year-old man named William Bigley, in court for a hearing to decide whether he should be sent against his will to a psychiatric hospital, told the judge that Zyprexa and similar antipsychotics were 'poison' and he did not need them, the New York Times reports. "I'm fine," he said. He also said he knows President Bush, owns a private jet and has seen flying saucers.
Bigley has been diagnosed with paranoid schizophrenia, and he's been in and out of treatment for more than 20 years. He's taken Zyprexa, Risperdal, Haldol and Thorazine, among other antipsychotic drugs. But he hasn't been known to be violent or suicidal.
In Alaska, a patient has to be violent, suicidal or a danger to himself to be hospitalized against his will. So the judge in Bigley's case let him go, against the recommendations of doctors who believed his erratic behavior could easily get him into physical trouble with the police or others.
Meanwhile, the legal fight continues over whether Lilly concealed Zyprexa's side effects — which can include weight gain and an increased risk of diabetes — to protect sales of the multi-billion-dollar drug.