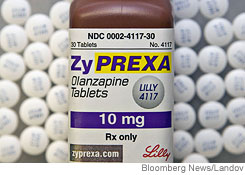 A 2005 study from Harvard psychiatrists testing the use of powerful antipsychotics in preschoolers was beset by breaches of research protocol, according to a letter from a committee monitoring the experiment.
The study was led by Joseph Biederman, a controversial proponent of using powerful psychiatric drugs to treat children. Earlier today, we described some court papers that suggested Biederman told Johnson & Johnson, before certain trials of its drugs were started, that he expected positive results from the tests.
In the monitoring committee documents, Biederman had at least six violations of research protocol, according to an April 2004 letter from Massachusetts General Hospital's Human Research Committee, which is responsible for monitoring patient studies at the facility. Biederman and several of his colleagues involved in the research hold dual appointments at the Boston hospital and the Harvard Medical School.
In one instance, which the research committee deemed "a serious breach of the protocol procedures and provisions," a child in the 2005 study was given a 12.5 milligram dose of olanzapine, although the maximum dose allowed in the study was 7.5 milligrams, according to a letter from the committee to Biederman. Olanzapine, sold by Eli Lilly, is known more commonly by the brand name Zyprexa.
Biederman, in a response to the hospital committee, called the violation "serious" and wrote it "should never have occurred and is not justified." However, he also reported that "in no way was the subject's safety jeopardized." He also said the higher dose was used to stabilize a "very sick child." A lawyer for Biederman couldn't be reached for comment today.
The age of the child wasn't specified in the letter, but the children in the study ranged 4 to 6 years old.
The study, published in journal Biological Psychiatry in 2005, concluded that treating the preschoolers with olanzapine and risperidone, sold as Risperdal by a unit of Johnson & Johnson, "may result in a rapid reduction of symptoms of mania in preschool children with" bipolar disorder.
Take a look at this pdf, which includes a letter Sen. Chuck Grassley sent today, along with copies of some slides we referenced this morning and correspondences over the study-protocol issue.