BAY AREA NEWS GROUP INVESTIGATION
Children in California's foster care system are prescribed unproven, risky medications at alarming rates
Story by KAREN DE SÁ
Photographs and video by DAI SUGANO
Design by QIN CHEN

T hey are wrenched from abusive homes, uprooted again and again, often with their life's belongings stuffed into a trash bag.
Abandoned and alone, they are among California's most powerless children. But instead of providing a stable home and caring family, the state's foster care system gives them a pill.
With alarming frequency, foster and health care providers are turning to a risky but convenient remedy to control the behavior of thousands of troubled kids: numbing them with psychiatric drugs that are untested on and often not approved for children.
An investigation by this newspaper found that nearly 1 out of every 4 adolescents in California's foster care system is receiving these drugs — 3 times the rate for all adolescents nationwide. Over the last decade, almost 15 percent of the state's foster children of all ages were prescribed the medications, known as psychotropics, part of a national treatment trend that is only beginning to receive broad scrutiny.
"We're experimenting on our children," said Los Angeles County Judge Michael Nash, who presides over the nation's largest juvenile court.
http://webspecial.mercurynews.com/druggedkids/video/video_roc.mp4
A year of interviews with foster youth, caregivers, doctors, researchers and legal advocates uncovered how the largest foster care system in the U.S. has grown dependent on quick-fix, taxpayer-funded, big-profit pharmaceuticals — and how the state has done little to stop it.
"To be prescribing these medications so extensively and so, I think, thoughtlessly, with so little evidence supporting their use, it's just malpractice," said George Stewart, a Berkeley child psychiatrist who has treated the neediest foster children in the Bay Area for the past four decades. "It really is drugging them."
The state official who oversees foster care, Department of Social Services Director Will Lightbourne, concedes drugs are overused, but insists his department is wrapping its arms around the problem: "There's a lot of work to be done here to make sure we do things right."
No one doubts that foster children generally have greater mental health needs because of the trauma they have suffered, and the temptation for caregivers to fulfill those needs with drugs can be strong. In the short term, psychotropics can calm volatile moods and make aggressive children more docile.
But there is substantial evidence of many of the drugs' dramatic side effects: rapid-onset obesity, diabetes and a lethargy so profound that foster kids describe dozing through school and much of their young lives. Long-term effects, particularly on children, have received little study, but for some psychotropics there is evidence of persistent tics, increased risk of suicide, even brain shrinkage.
Sade Daniels, of Hayward, became so overweight in her teens, that at age 26 her bathroom mirror still taunts and embarrasses her. Mark Estrada, a 21-year-old from Anaheim, said he felt too "zoned out" to focus on high school and so groggy he was cut from his varsity basketball team.
And Rochelle Trochtenberg, now 31 and living in Eureka, still struggles to bring a glass to her lips because her hands are so shaky from the years she spent on a shifting mix of lithium, Depakote, Zyprexa, Haldol and Prozac, among others. When people ask, she tries to cover it up with remarks about a possible hereditary condition.
The truth is too painful to explain, she said. "I don't want to tell people I have a tremor because I was drugged for my whole adolescence."
Questionable prescribing revealed
Despite the concerns, state officials have been slow to even reveal foster care prescribing patterns in California. This newspaper and its lawyers spent nine months negotiating with the Department of Health Care Services for data that is public under state and federal law, as long as individuals cannot be identified.
The 10 years of data begins in 2004 and — even though the state continues to resist many of this newspaper's requests — provides the most comprehensive look yet at psychotropic medication use on California's foster kids. The newspaper also interviewed more than 175 people, including more than 30 current and former foster youth throughout the state.
The findings, which will be examined here and in future stories, include:
Growing use of antipsychotics to treat bad behavior: Of the tens of thousands of foster children placed on psychotropic drugs over the past 10 years, nearly 60 percent were prescribed an antipsychotic, the class of psychotropic medications with the highest risks. That figure stunned experts in the field and alarmed officials who oversee the state's foster care system. The Food and Drug Administration authorizes antipsychotics for children only in cases of severe mental illness, but evidence suggests doctors often prescribe them to California foster children for behavior problems — a legal but controversial practice that critics say should be limited.
Multiple psych meds common but dangerous: In many cases, doctors piled on prescriptions: 12.2 percent of California foster children who received a psych drug in 2013 were prescribed two, three, four or more psychotropic medications at a time — up from 10.1 percent in 2004. These drug combinations often fall in uncharted medical territory, with no scientific evidence that young brains aren't being harmed.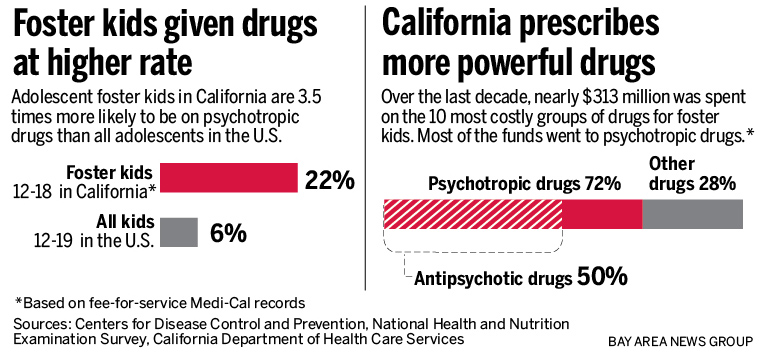 Psych meds the norm in group homes for troubled kids: More than half of the foster kids who live in California's residential group homes — and as many as 100 percent in some counties with very small numbers in group homes — are authorized by juvenile courts to receive psychotropic drugs. These homes shelter some of the most troubled foster kids, about 3,800 annually, many of whom the system has been unable to place with families. Health care professionals say children are being medicated to sleep to keep them manageable. In these group homes, foster children who refuse medications are often punished, losing basic privileges such as visiting siblings or simply going outdoors.
Very young kids also medicated: Hundreds of foster children 5 and younger have been prescribed psychotropics, although federal health officials say the drugs are not safe for the very young and other states actively discourage the practice. In California in the last 10 years, an average of at least 275 of these very young children each year have been prescribed psych medications.
High cost to kids, and taxpayers: California spends more on psych drugs for foster children than on any other kind of medication. This newspaper analyzed Medi-Cal spending on the 10 most costly groups of drugs for foster kids over the last decade. The state shelled out more than $226 million on psych meds for foster children — an astounding 72 percent of the total.
Illegal marketing drives sales: Company documents show how drug manufacturers misrepresented scientific evidence to maximize the national market for the antipsychotics that are the top five such drugs prescribed to California foster children. The companies eventually agreed to $4.6 billion in settlements with federal prosecutors. Lawsuits revealed that some of the companies' sales reps pitched doctors to broaden the use of their drugs among children while downplaying side effects, such as massive weight gain and breast growth in boys. Eli Lilly, for example, advised its sales force: "The competition wins if we are distracted into talking about diabetes."
State is slow to act: California has done little to address psychotropic drug use among foster children. Three years ago, the federal government called on states to develop plans to monitor the use of psychotropic medications prescribed to foster youth. Many states, including Illinois, Texas and New York, have formal plans. Yet California, with more than 60,000 foster children, has a target date for its policy of no sooner than 2016.
State says it's hard at work
Officials with the Department of Social Services say they are working hard on improvements. Two years ago, they assembled statewide experts to act on the federal mandate, and they say that group is making good progress.
Lightbourne said the real story behind the numbers is more positive: As the state's foster care population plunged in the past 10 years — part of a national trend to keep families intact — so has the total number of foster youth prescribed psych medications, dropping by thousands of kids.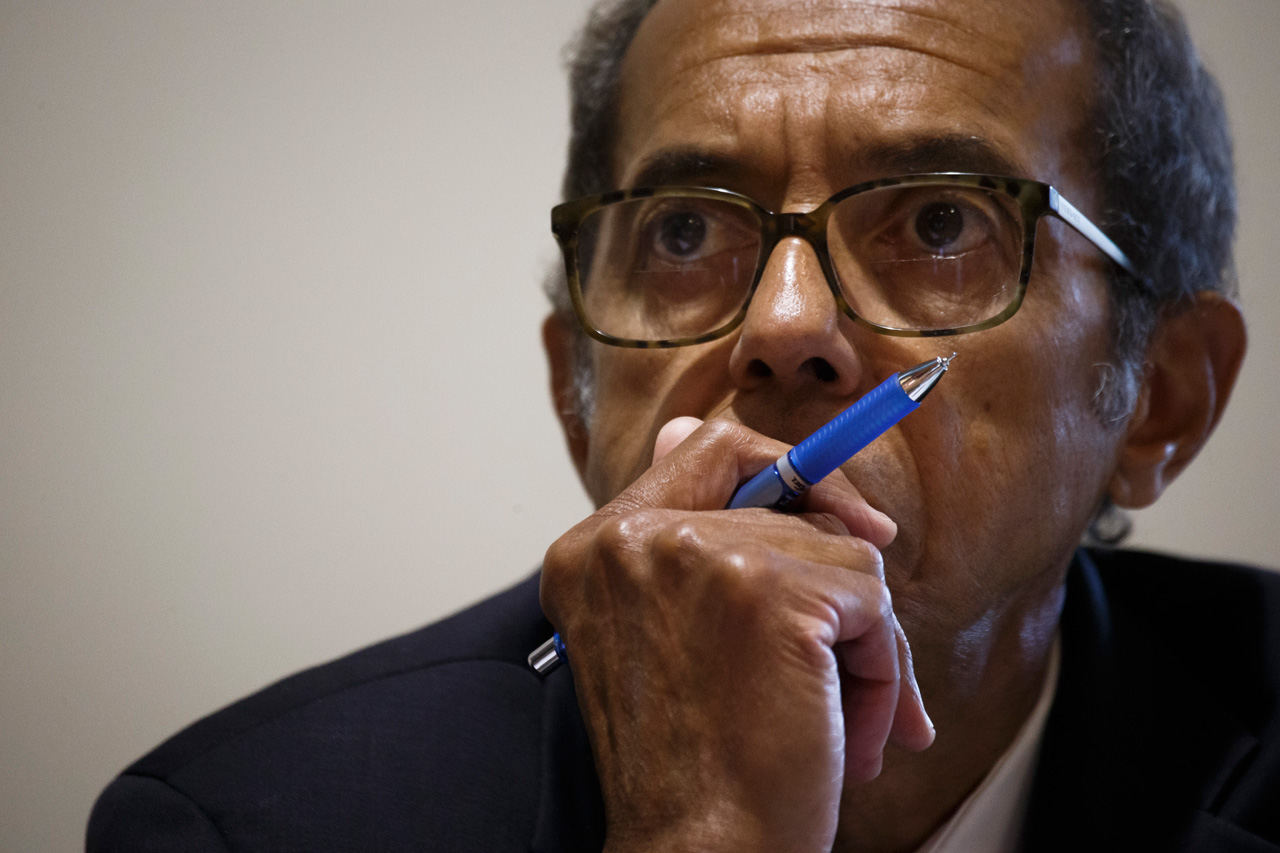 In a sharp defense of his department's oversight, Lightbourne insisted those numbers represent progress, even though the percentage of foster children on psych meds has remained roughly the same — ranging from 14 to 16 percent annually — for the past decade.
"Clearly there are some situations in which psychotropic prescriptions may be appropriate," Lightbourne said. "We have to know that something is being done because it's absolutely necessary, not because it's convenient — that it's not simply behavior management.
"There are things that are much better handled through therapies," he said. "Psychotropics should be the end, not the start."
Many on the front lines, however, defend the prescribing, saying the risks are weighed against the benefits and that there are often no alternatives to treating kids with such deep emotional scars. Foster parents and group home directors tend to cast out kids with the most anti-social behaviors, and no one wants them to end up in juvenile halls, psych wards or treatment facilities.
"The goal is to deinstitutionalize the child so he can live safely in the community," said therapist Randall Ramirez, director of behavioral health for San Jose-based residential treatment provider Unity Care Group. "If one of the drawbacks is they have to be medicated because we don't want to raise kids in orphanages, that's the trade-off."
To be sure, California is not alone in its questionably high prescribing rates. Growing evidence has revealed alarming rates of psychotropic medication use on foster youth across the country, and particularly antipsychotics. The numbers are difficult to compare from state to state because of differences in methodology, but one recent survey found that in 2009, some states, including Texas, Colorado and Missouri, prescribed antipsychotics at an even higher rate than California.
Overuse concerns date back decades
The state has known about the overuse of psychotropic medication on foster children for years. Legislators first tried in 1999 to address the concerns, passing a law that made California the only state requiring juvenile courts to approve all psych med prescriptions, with reviews every 180 days.
But this newspaper's analysis of a decade of prescribing data shows the court oversight has done nothing on a statewide level to lower prescribing rates. A UCLA study in 1998, cited in the legislation, found that 13 percent of school-age foster children in Los Angeles were receiving psychotropic medications. While the state failed to provide data that would allow an updated look at Los Angeles school kids, this newspaper's study revealed high prescribing rates have persisted statewide for all foster kids and all age groups.
"I don't think there's one substantive thing that we can point to that has ensured that foster children in California today are only receiving psychotropic medications appropriately," said Bill Grimm, an attorney with the Oakland-based National Center for Youth Law.
Grimm's organization is a central part of the state effort — along with public health nurses, state pharmacists and child welfare directors — to comply with the federal mandate to better monitor psychotropic medications. But he is frustrated that the group has been meeting for two years without producing any reports or policy recommendations, and said it has been hamstrung in part by the state's refusal to provide good data on prescribing patterns.
Doctors' orders rarely questioned
A foster child's path to psych medication can begin innocently enough — for example, when a child can't sit still in class and receives an attention-deficit diagnosis and a prescription for stimulants. But like so many other painful experiences in these children's lives, the drugs are often ramped up during a crisis.
Sometimes, kids end up in the hospital after harming themselves or threatening suicide. Often, though, the prescriptions for stronger drugs come after a child lashes out.
In dozens of interviews with this newspaper, foster youth freely recounted their rash behavior, which they attributed to anger and frustration: They broke furniture, punched people or trashed their rooms. Sade Daniels, the Hayward resident, said she threw a chair at a teacher who had deeply humiliated her — and betrayed her confidence — by telling the class she was in foster care.
Mark Estrada, the former Orange County foster youth, depressed and defiant in his late teens after being separated from his siblings, said he had his behavior subdued by the antipsychotic Seroquel, which is approved only for manic episodes associated with bipolar disorder and schizophrenia.
"They'd make me take it anytime I'd have a tantrum or felt rebellious," Estrada said. "I felt like I was being controlled. They gave it to me in the morning, and I'd fall asleep all day."
A juvenile court authorizes each prescription, but the forms the courts use often lack critical details and a doctor's expertise is rarely questioned. Nash, the Los Angeles judge, acknowledges the resulting challenges — even in Los Angeles, where mental health experts now review all applications for prescriptions and in 2013 officials created protocols to curb prescribing of multiple psych meds.
"The last time I looked around, there aren't too many psychiatrists or psychologists on the bench," the judge said. "So how in the heck are we able to make good decisions about these meds?"
How overprescribing happens
The progression from medication to overmedication is also surprisingly routine, said child psychiatrist Tony Stanton.
At first, psych medications can stabilize moods and dangerous behaviors. Yet once the immediate crisis is over, foster children often remain on a high-dose pharmaceutical course that future doctors are reluctant to reverse.
The drugs "might stun them for a while," said Stanton, who treated Bay Area foster children for 24 years. "But after two or three weeks they'd stop working."
Then, if the child seems depressed, they add an antidepressant. "And when that got worse, they'd change the diagnosis — they'd say it's actually bipolar," Stanton said. "Then, if they said they heard a voice telling them they were bad or something, then they'd say: 'Oh, they're psychotic.' Then an antipsychotic would be added."
Aggressive behavior? A second antipsychotic may get added to the mix.
"Usually in my report I'd say, if in fact any of this had been successful, the child should not be in our care," said Stanton, whose San Leandro group home typically received the most difficult-to-place foster children. "So I think we can safely say this does not work."
Stanton's reports in recently published articles summing up his work with 450 children ages 5 through 13 are startling: Most children arrived at residential homes run by the Seneca Center for Children and Families on at least four or five — and as many as eight or nine — different psychotropic medications. One 9-year-old shuffled into a Seneca home on a medication dose that was 10 times the amount recommended for a psychotic adult.
"It's a story I've gotten used to," said Robin Randall, medical director of San Francisco's Edgewood Center for Children and Families, which also offers residential treatment programs for troubled foster youth. "I used to say when I saw kids walk in on eight or nine different medications that I was shocked and appalled — now I'm just appalled."
Randall said children "stay on the meds for reasons that are not necessarily heinous. It's not that doctors want to get kids on a ton of meds. They're putting out fires, and not allowed the time. The system is set up in a way that everyone is adding, adding, adding, and doesn't allow for a space to safely take them off."
'I wanted to take the pill'
When a psychiatrist told Joymara Coleman that medication could help her enjoy life more, "it sounded like magic to me at first, honestly."
She had been searching for some peace after a decade in and out of foster care in Alameda County.
"It was pretty clear that I was depressed because of all the things that I went through," said Coleman, now 24 and a senior studying sociology at Cal State East Bay. "I was in the foster care system with folks who weren't very loving. I had a lot of things I needed to heal from — from losing my mom, losing my siblings, from witnessing my mom smoking crack. I was depressed because my father was incarcerated."
Coleman had seen her roommate in a home for troubled teens wet the bed while on the medications, and she surely didn't want that. "But after experiencing so much tragedy and so much confusion and chaos in my life, when the psychiatrist told me that it would make me happy, I wanted to take the pill."
She was 17 when a doctor prescribed the antidepressant Prozac for depression and panic attacks, but the list of medications grew to a series of overlapping trials of psych meds, according to court records she shared with a reporter: There were antipsychotics Risperdal and Abilify and mood stabilizers such as Depakote and lithium.
Court files show that when Coleman was 18, she "was put on 300 mg of lithium to help her control her anger; however, it was stopped after client felt dizzy and nauseous." Psychiatrists who reviewed that diagnosis for this newspaper called it disturbing that lithium, a powerful treatment for bipolar disorder, would be prescribed for anger management.
The cocktail of drugs left her exhausted and "spaced out," dulling her spunky personality. "When I was on the medication I just didn't act like Joy," she said.
She said her nurse practitioner seemed to really care about her. But when the self-conscious teen complained about weight gain — she added 35 pounds to her 4-foot-8-inch frame — the nurse simply encouraged her to avoid sugary drinks.
"They were really adamant," Coleman said of her case workers' insistence that she take medications. "Initially I bought into it, that I needed this because these are professionals — these are all white professionals, with degrees and they're older and they're telling me that something's wrong with me, and they just know this."
'It's the behaviors they want treated'
From all quarters, the pressure in favor of the drugs can be intense.
Estrada recalls the consequences at his group home when he refused to take his Seroquel: He couldn't go on field trips, play video games, watch TV or go outside.
But the pressure starts elsewhere, said longtime public health nurse Carol Brown, with the caregivers struggling to control troubled kids. Many of those caregivers are loving and committed, genuinely trying to do the right thing; others are simply overwhelmed.
"Very often, there's pressure on the doctors from the foster parents and the group homes to provide medication to deal with the behaviors that the foster youth are exhibiting," Brown said. "The foster parents won't take the kids with the behaviors, and it's the behaviors they want treated."
Child psychiatrist Edgardo Tolentino, a doctor with Pathways to Wellness, a medication clinic that serves foster children in Alameda and Contra Costa counties, conceded he has felt that same pressure from caregivers.
"The expectation is that they'll be given some type of medication," he said. "If they are already on medications, the only thing I can do is continue them."
Psych meds indispensable for some kids
Pressure or no, many who are part of the system — while insisting they avoid overmedicating kids — say some use of drugs is essential.
"I wouldn't want people to think as caregivers we are medicating them so they are comatose, or putting them to sleep so we don't have to deal with them," said Barbara Leiner, who fostered more than 300 children in Los Angeles County over 24 years and runs online training forums for foster parents. On the contrary, she said, in her experience medications benefited a significant number of her children.
"They're better in control of their behaviors. When they're not on psychotropic drugs, they have a tough time in school, the other kids don't like them, they're out of control."
Psychiatrists concerned about overprescribing acknowledge there are legitimate reasons for some children to take psychotropic medications, and even the riskiest drugs can be lifesaving for the small sliver of kids with psychoses that are clearly diagnosed. Studies show that's no more than 1 to 2 percent of children, depending on the illness.
Marjorie, an Oakland special-education teacher who uses only her first name, adopted two of her students from the foster care system and said antipsychotics have been indispensable in their care.
The two boys, Jakeel, 18, and Smith, 11, take one antipsychotic medication daily to treat symptoms of severe autism. Off the meds, Jakeel tried to leap out of a moving car because he didn't get a toy he wanted. Smith killed a family pet and once tried to climb out a third-story window.
"He talks about the ants in his head without the Abilify," said Marjorie, who approaches her mothering with a cheerful practicality. "So I say, 'OK, we don't want ants in your head!' "
Still, when her sons first came to live with her, Marjorie quickly discovered they were on more medications while they were in foster care than she felt were necessary. So she lowered the dosages and limited the multiple antipsychotics to just one.
That kind of attention can be lacking in the foster care system, and that adds another layer of concern for often-displaced kids on such powerful drugs. More than 60 percent of the children who have been in foster care at least two years have moved two or more times in the system.
So even their prescribers — who may be private practitioners or work at public clinics — often know little about them or their family histories when they meet during office visits. Nash recently reviewed 150 requests for medication in the Los Angeles juvenile court and said he found cases in which doctors prescribed with no medical records or drug history.
The dangers are real. For example, some antidepressants carry a "black box label" proclaiming a high suicide risk for young patients. The FDA advises that children be closely monitored for worsening depression and sleeplessness. Yet for foster kids without parents, the medications are often prescribed even when a watchful eye is absent, said attorney Jennifer Rodriguez, a former foster youth who is now executive director of the San Francisco-based Youth Law Center.
"As a parent, when your child goes on something that's dangerous, the most dangerous drugs that are out there," she said, "your doctor is relying on you — someone who knows that child, who watches over time."
'Treatment for a broken heart'
Many of the foster youth interviewed for this story shared another theme: There was no need for medication when they got the emotional support they needed all along. Often it was an adult who vowed to stick by them no matter what — a long-lost relative, a teacher, a volunteer advocate, an exceptionally devoted nurse, or the foster parent who seemed to see through the raucous behaviors to the kid inside.
Those key relationships — not medications — are what most helped them eventually calm down and start to feel better, the youth said.
"I cannot count the number of times I have seen children on multiple medications who are really suffering from a broken heart," said Menlo Park child psychiatrist David Arredondo, who has worked with foster youth for 30 years. "And the treatment for a broken heart is not another medication."
Today, Rochelle Trochtenberg doesn't take a single psychotropic medication. She works with troubled youth in Humboldt County and is working on a master's degree in social work.
But in foster care in Los Angeles, she was diagnosed with a host of mental illnesses, including bipolar, schizoaffective and post-traumatic stress disorders, major depression, bulimia and generalized anxiety.
"They attach all these labels to you in foster care," she said, "but the bottom line is I come from a home where physical and sexual abuse were my daily norm, where I lived in fear every day, where I felt responsible to protect my younger sister from the abuse."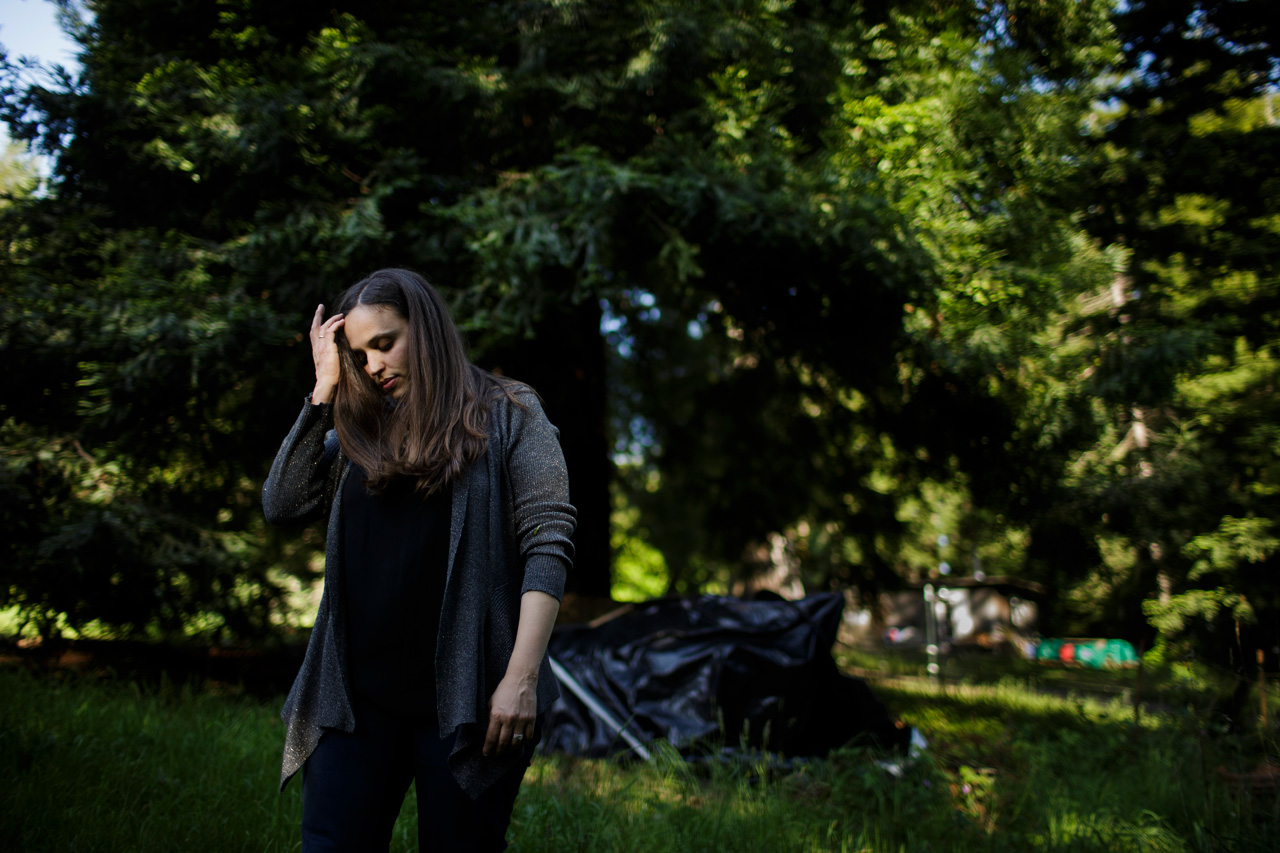 Trochtenberg knew she needed help with depression at age 13, when she was removed from her family home in Los Angeles. After suffering years of physical and sexual abuse that drove her to attempt suicide in the seventh grade, she was grateful when social workers rescued her.
Yet while the state freed her from one type of abuse, it delivered her into a life of so many temporary homes and psych meds that she lost count.
When she aged out of foster care with a list of 10 medications and nowhere to stay, she lived on the streets until a friend's family took her in. Then she met Nicoli Tucker, a therapist who helped her see beyond her medicated self to a girl who had simply been failed by her family and by the foster care system.
Tucker treated the troubled teen for six years. It took a year to build up trust, she said, but only a single counseling session to see that Trochtenberg had been horribly misdiagnosed.
"My professional answer is I think that was overboard," Tucker said of Trochtenberg's drug regimen. "My personal answer is: Big Pharma and Wall Street. There's big money in keeping these kids drugged, and I think it's a travesty."
Daniels also looks back on her medication history as a terrible miscalculation. In a six-week span when she was 14, social workers moved her to three different group homes in Alameda County, where she spent much of the time worrying about her stuff being stolen. The antidepressants and antipsychotics used to subdue her during that time didn't work for what was really hurting, she said.
"When I look back as an adult at who I was when I was initially diagnosed and given the medication — I needed love," Daniels said. "Nobody really sees that hurt girl, or the one who truly just wants her mom to get her act together and to get off drugs, or who wants a family, something stable.
"The system relies heavily on medication to do a job that parents are supposed to do."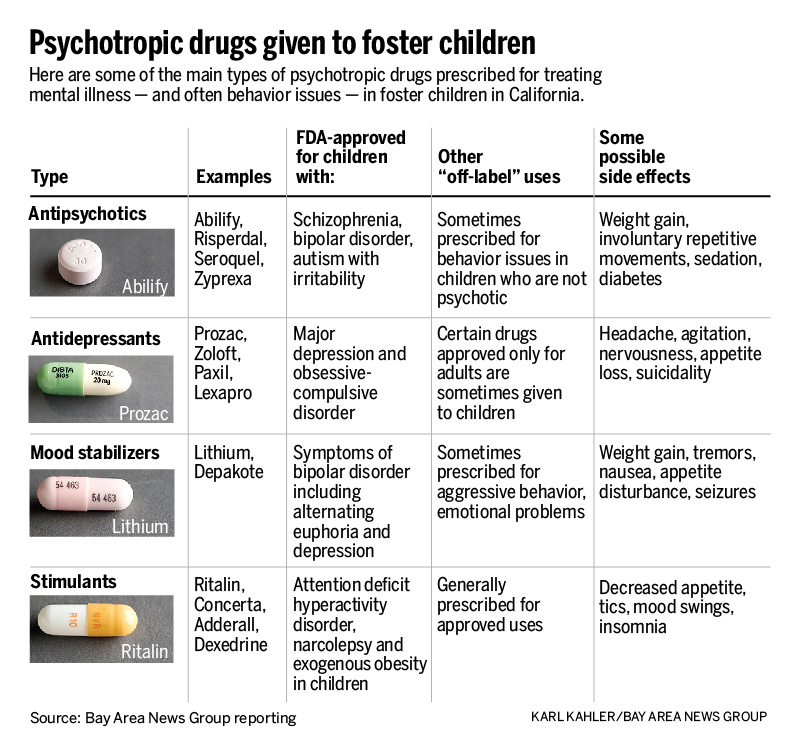 Doctors' dilemma: 'Do benefits outweigh the risks?'
When federal regulators determine that a medication is safe and effective, they assure the public with the FDA stamp of approval on the pill bottle's label.
But doctors who treat troubled foster children often turn to a legal but worrisome practice: prescribing powerful antipsychotic medications for conditions and age groups no regulator has blessed.
Drug companies are prohibited from promoting their medications for so-called "off-label" uses, but the law allows doctors to prescribe them for conditions that aren't approved by the Food and Drug Administration. When the patients are children, however, the risks of such prescribing are magnified: Their brains are still developing, and debilitating side effects can have lifelong consequences.
"Whenever you prescribe medication, you have to ask yourself: Do the benefits outweigh the risks?" said George Fouras, a San Francisco child psychiatrist who specializes in foster care. "That always has to weigh heavy on our minds. Do you want to expose somebody to very serious side effects if there are other alternatives?"
Off-label prescribing can be life-saving in some cases, and it is widely used to treat cancer and rare diseases. Fouras said doctors base their decisions to write such prescriptions on their own patients' outcomes and published reports of case studies.
But one doctor's comfort level is another's concern. Menlo Park child psychiatrist David Arredondo said many doctors are too comfortable prescribing antipsychotics to children.
Unless a child has "a major, major psychiatric illness, I don't think we have any business doing that to a developing child's brain," he said. "It's too risky."
For children, the FDA has approved antipsychotics only to treat schizophrenia, bipolar disorder and severe autism — serious mental health conditions found in just 1 to 2 percent of the child population. But University of Maryland professor of pharmacy and psychiatry Julie Zito has found that the drugs often are prescribed off-label to control children's behavior.
In a rare look at diagnoses of children covered by Medi-Cal, California's public health system, Zito found that almost one-half of the antipsychotics used were off-label and about a third were for behavior problems such as ADHD, "conduct disorder" or "oppositional defiant disorder." Her yet-to-be-published study found that in 2009 there was an 18-fold greater use of antipsychotics on foster children than on non-foster kids receiving Medi-Cal because of their families' income levels. These findings were presented to the FDA in April.
There is no research on the effects of psychotropic medication on children's brains, but there is cause for alarm in the research on adults. In a widely cited study published last year, University of Iowa neuroscientist Nancy Andreasen examined MRI images of 211 schizophrenic adults and determined that chronic use of antipsychotics, not the illness, caused "smaller brain tissue volumes."
Other side effects of the drugs, such as rapid weight gain and diabetes risk, are well-documented.
In a 2009 study published in JAMA Psychiatry, children on antipsychotics added up to 15 percent of their body weight in less than two weeks. Every one of the study's 257 participants gained weight.
The studies only verify what doctors such as longtime child psychiatrist Glen Elliott already know. He routinely sees it in his exam room at the Children's Health Council in Palo Alto. To the doctor's shock, a new patient, a 5-year-old boy, came to him after ballooning — in six months — from normal weight to morbidly obese.
Elliott said he and other doctors have been stunned to learn how often antipsychotic use in children results in obesity. In his young patient's case, "the saddest thing was, his behavior was no worse off the medicine than it was on the medicine."

How we acquired and analyzed a decade of state data
Alarm over psychotropic drug use on foster children has been growing across the country for years, but understanding the scope of the problem in California required months of negotiations with the state just to take a closer look.
The result is an unprecedented review of a decade of prescribing data from the state's foster care system that begins an ongoing investigation called "Drugging Our Kids."
How we analyzed the problem
Foster care prescribing patterns are best tracked by reviewing what the state calls "pharmacy benefit claims" billed to Medi-Cal, the state's publicly funded health system, which pays drug costs for California foster children. While an individual's health records are private, much of the information in the pharmacy claims is public under state and federal law.
In October, staff writer Karen de Sá filed a California Public Records Act request for 10 years of those claims, stripped of any information that would identify individuals.
What we requested
This newspaper sought raw data that would allow it to analyze the number of foster children receiving psychotropic drugs, with breakdowns on age, gender, ethnicity, geography and type of residence. The request also asked for data to provide a window into what experts consider a disturbing trend: the number of children who received multiple psych meds, and the number who received the potent class of drugs known as antipsychotics.
The state's response
The state Department of Health Care Services, insisting even "de-identified" data could be used to identify individuals, refused the newspaper's request for raw data and then twice provided aggregate data that was either incomplete or inaccurate. By late July, after nine months of negotiations, the state delivered aggregate data covering the fiscal years 2004-05 through 2013-14 that allowed for limited analysis. The newspaper's news research director, Leigh Poitinger, conducted that analysis.
The newspaper and its lawyers continue to fight for parts of the original request.
Other groups that have sought prescribing data from the state have encountered similar resistance. Members of a state task force considering new safeguards for foster children say their work has been hampered because they can't get data to understand the specific problems.
California's tracking problem
The state was able to provide accurate prescription data only for foster children whose health care was through traditional Medi-Cal. But over the last decade, many counties have begun shifting their foster children to managed health care plans. By 2014, about 38 percent of foster children were covered by managed care plans.
Those children are not reflected in the numbers the state provided to the newspaper because the state could not vouch for the accuracy of that data. In reality, there are certainly more foster children receiving psych meds than are reflected in the analysis, so the newspaper used percentages — instead of overall numbers of children — to describe the trends.
Why it's hard to compare studies
Other studies on foster youth are limited to children who are in foster care a minimum of six months.
The state used that methodology in a 2010-11 report to the federal government that showed as many as 19.2 percent of California foster children in that year received psychotropic medications.
By comparison, the data the state provided to the newspaper for the same fiscal year showed 14.7 percent of foster children on psych meds.
That's because that data looked at every foster child covered by Medi-Cal (but not in managed care) over the 10-year period — even ones who were only briefly in foster care.
While the newspaper's analysis provides a comprehensive view of the state's prescribing patterns over time, experts say data using this methodology — which was suggested by the state — likely reflects a lower rate of prescribing than is actually occurring.
David Grant is an expert in population health surveys who directs the California Health Interview Survey for the UCLA Center on Health Policy Research. "You may have a lot of people showing up in there," Grant said, "that never even have a chance to obtain a prescription during their time in foster care."